Russian students and the three-week Vietnamese language course at Ton Duc Thang University
Through the connection of the Faculty of Social Sciences and Humanities, a group of 07 students from Lomonosov University (Russia) came to study Vietnamese at the Center for Vietnamese Studies and Language in the early days of August. This was the second time that they came to study at Ton Duc Thang University. They were well-deserved the fame of the most prestigious university in Russia! Although having only three weeks of study and extracurricular activities, they showed remarkable progress in practical skills, and especially, their hard work and effort, the desire to learn of each member of the group made a memorable impression for everyone.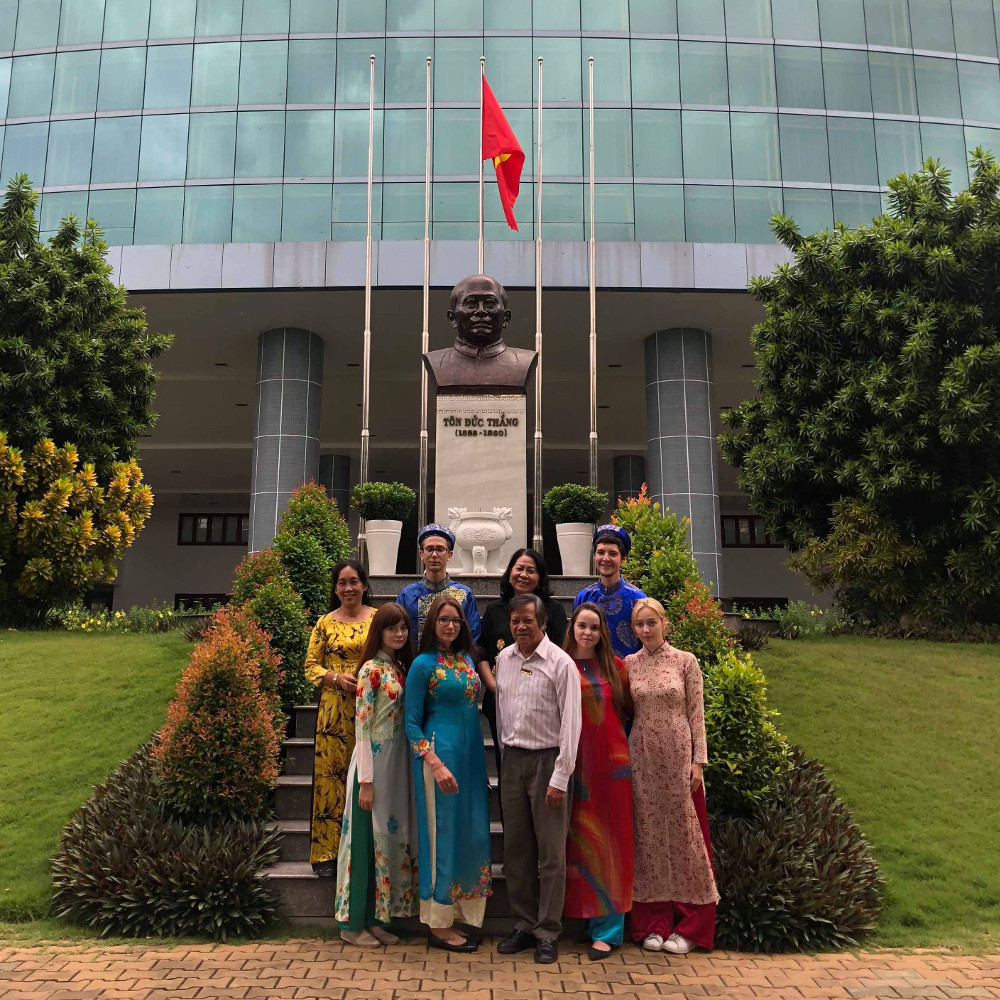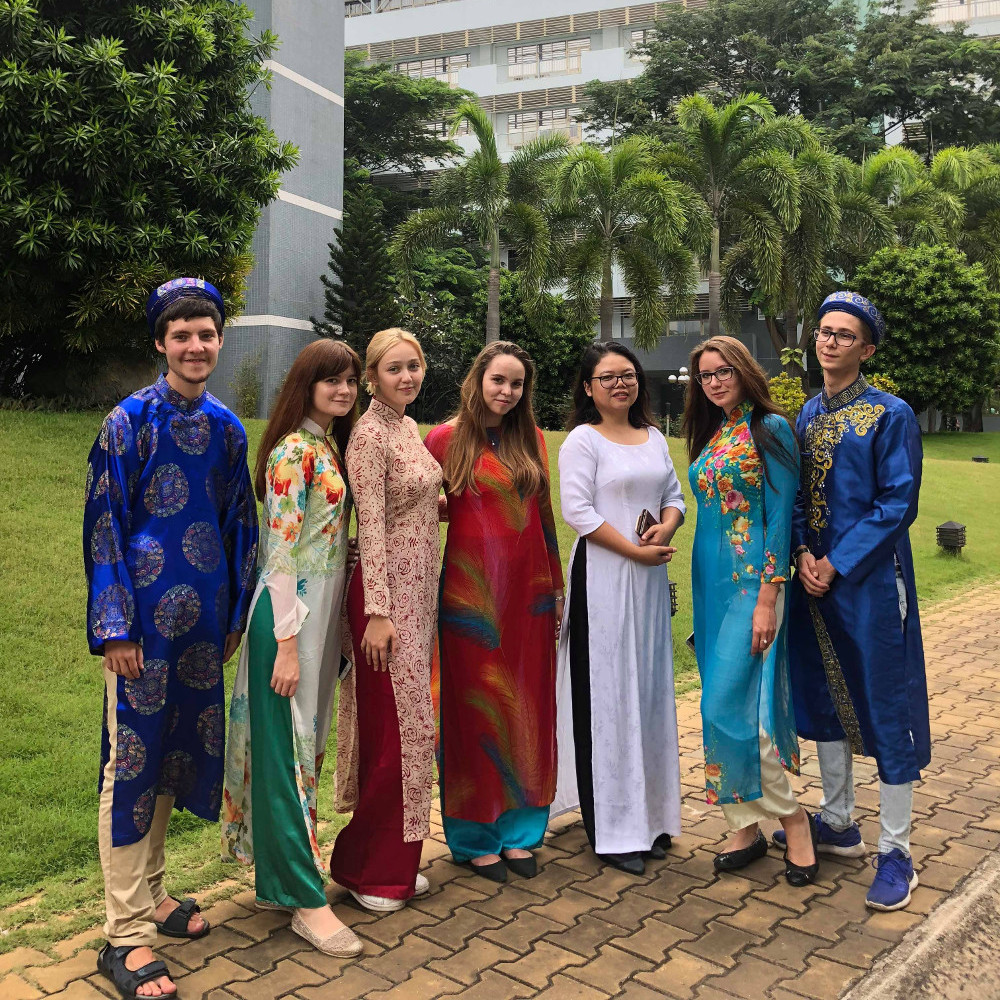 The classes were full of conversations, exchanges of information, discussions of cultural and social issues. They all tried to give comments and expressed their own views on the issues. They didn't hesitate to ask questions whenever they didn't understand clearly or they wanted to know about something. Their learning spirit was commendable; they all studied and completed the homeworks well, paid attention for self-correction as the teacher reminds them, which made the class-time became more effective.
Apart from class-time, the students also participated in extracurricular activities such as attending a cooking class at teacher's house, visiting the Museum of Vietnamese History.
In the cooking class, they were instructed to make some traditional Vietnamese dishes such as pancakes, spring-rolls. They all loved to make the pancakes and spring-rolls by themselves in the house of the Vietnamese family. Everyone was so happy to have a fun and rewarding experience.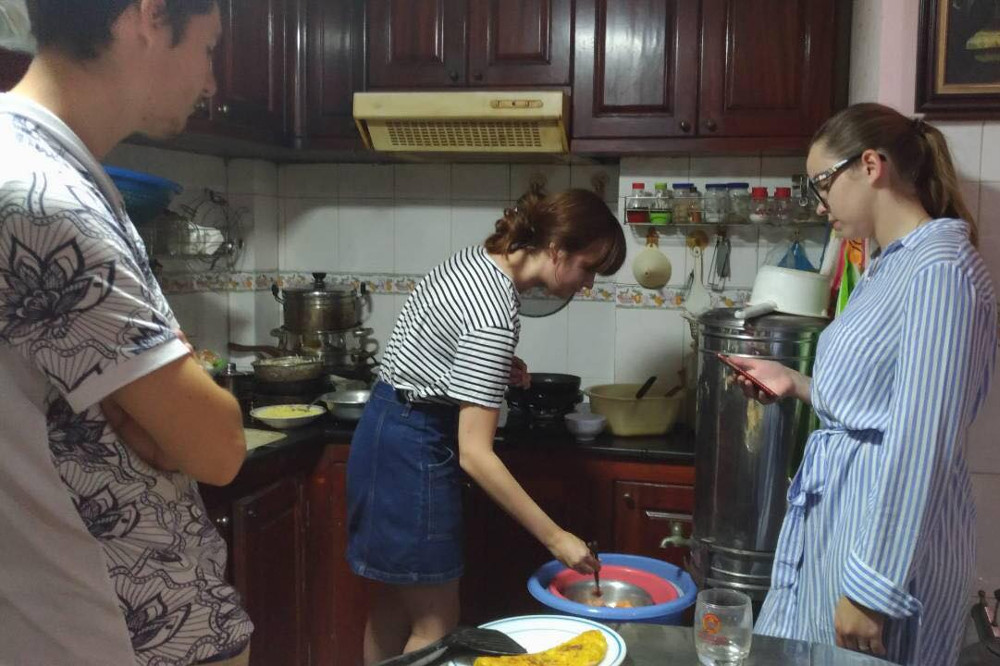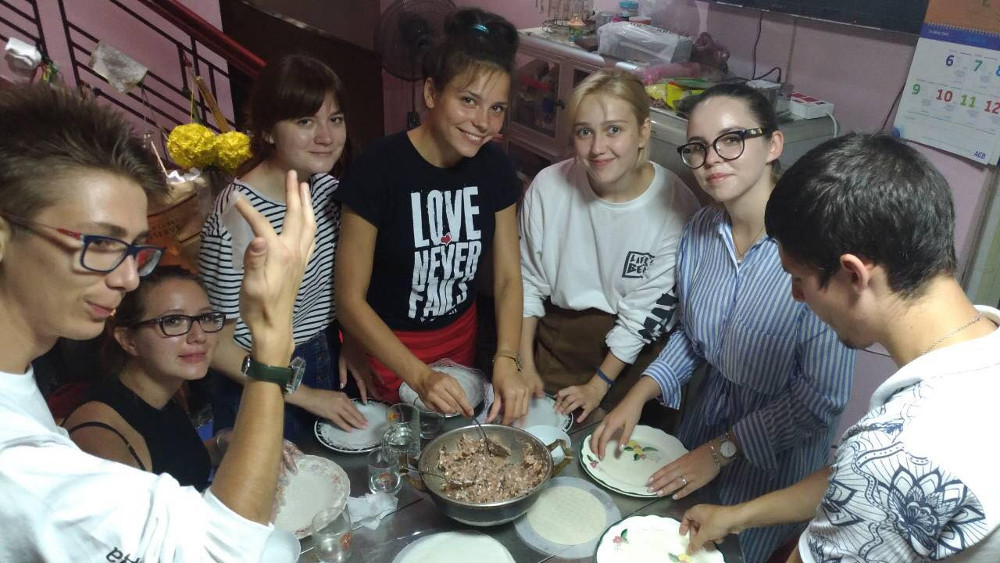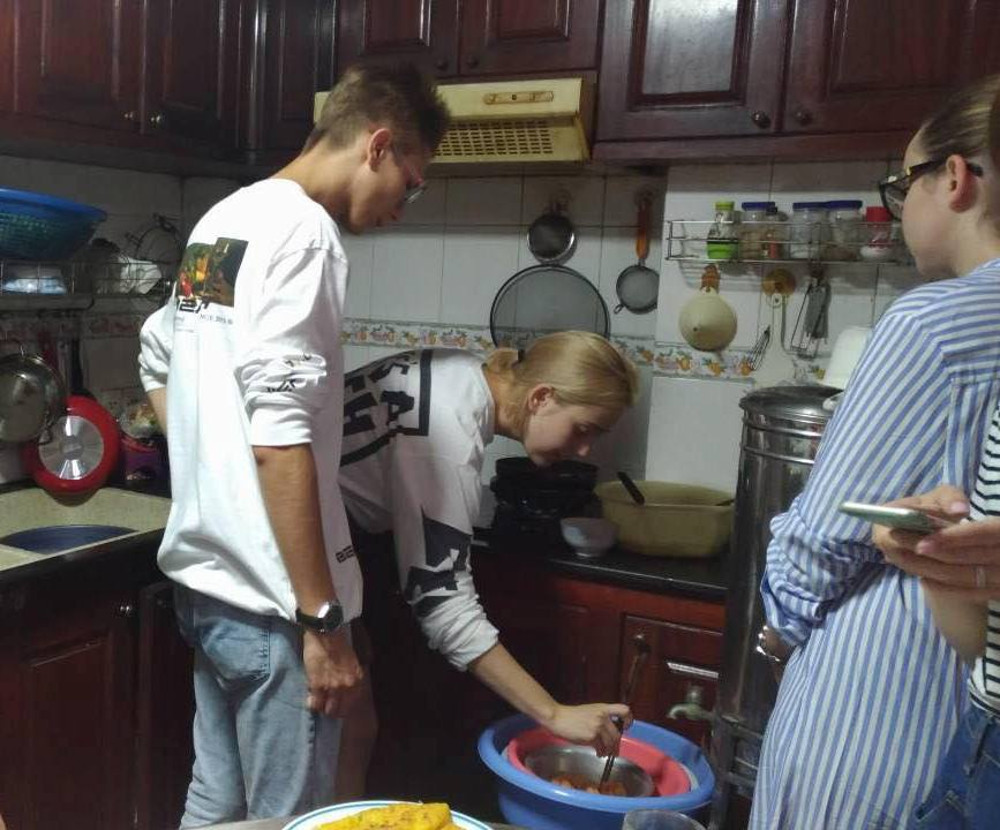 The trip to the Museum of Vietnamese History with the guidance of a Vietnamese historian and the teacher in charge of the class also left a deep impression for them. Thanks to this trip, they gained more knowledge about Vietnamese history. The stories from the historian helped them to reinforce and understand more deeply about the knowledge they have learned. All of them wanted to have more time at the museum.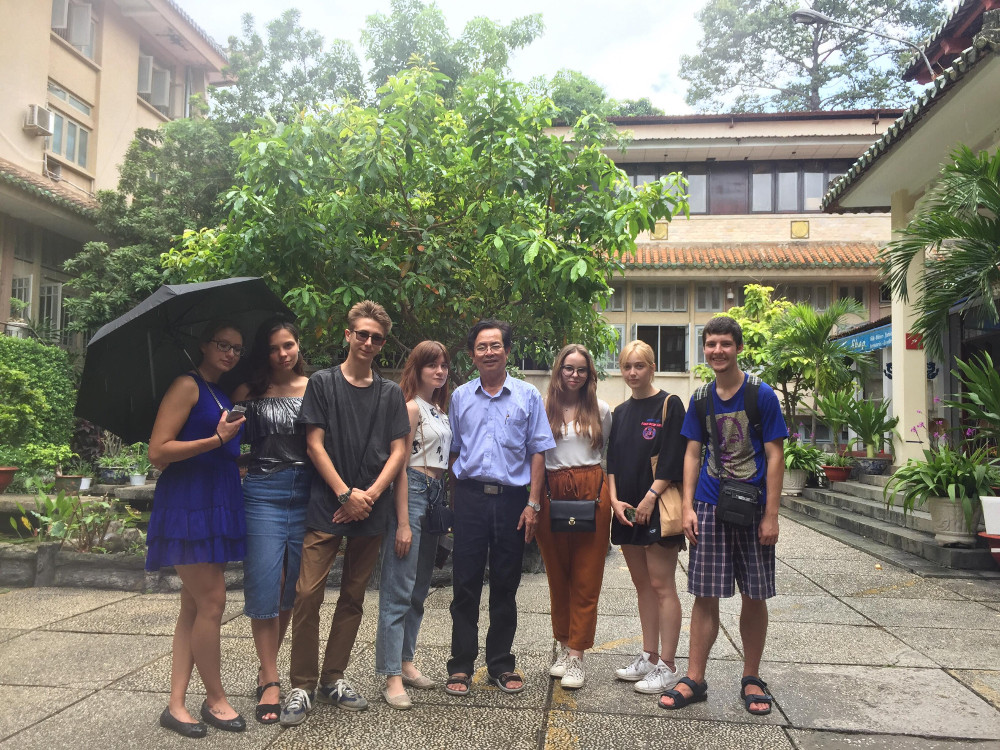 Three weeks passed quickly. All the students recognized their progresses and the effectiveness of the course, and looked forward to returning to Vietnam, to Ton Duc Thang University to improve their skills.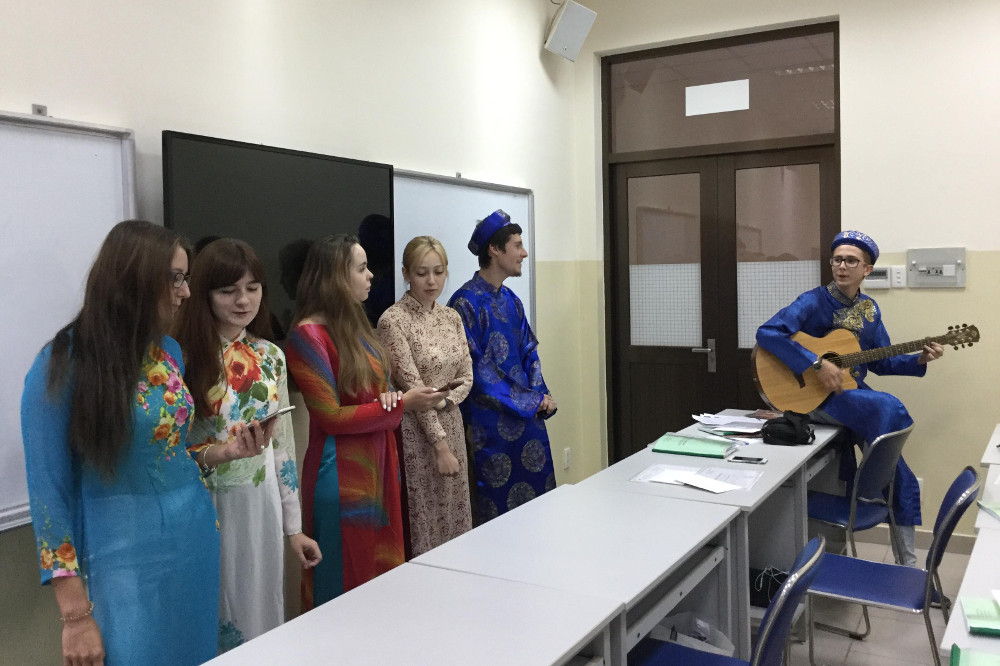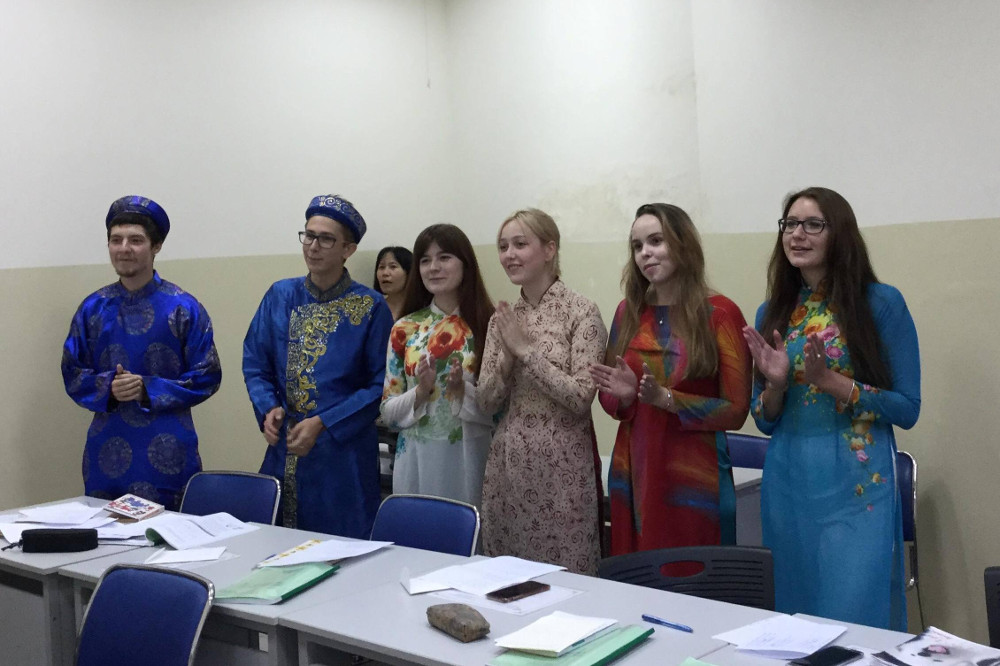 Congratulations on your achievements in this three-week course and see you again.
The following are some thoughts about the course of the students from Lomonosov University:
" I am very happy that my class have the opportunity to go to Ton Duc Thang University for the second time. I like everything here: the cheerful atmosphere, the architecture of buildings and modern facilities. But what I like most is the Vietnamese people. I want to say thank you to all the teachers ." (Anastasia Grishina)
" This is the second time we came to Ton Duc Thang University. We came here last year. This university has become our favorite place ." (Lyubov Evseeva)
" I like Vietnam, the culture and history of Vietnam. I know that if I have a chance, I have to return to Vietnam to continue learning Vietnamese and all things related to Vietnam. Now I can sing Vietnamese songs! " (Mark Dubinin)